Throughout the last couple of months, Our CORNCOB II demo unit, Alfie, has been traveling throughout the U.S. processing for a variety of applications, including food processing and waste water, all of which you can read about in our blogs! The unit is just coming back from Houston where we handled fracking water and well water.
But now, CORNCOB will be holding demonstrations in which the unit will be processing river water to potable quality as well as samples from laundry and livestock applications. We graciously thank the Milwaukee Metropolitan Sewerage District (MMSD) for providing the location and for supporting start-up companies such as ourselves.
Everyone is more than welcome to come and witness the magic take place at Menomonee River Valley Harbor at Milwaukee Metropolitan Sewerage District, which is displayed in the map below. The site will be open to visitors March 23rd, 24th, and 27-29th from 10AM-3PM .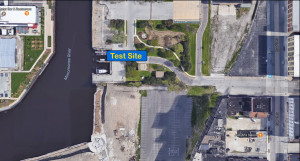 To get to the site, go south on 2nd Street toward the Water Council, turn right on Seeboth St., then turn right again at the fence and go into the MMSD parking lot. The MMSD address is 260 Seeboth St.
Another way would be to park in the lot across the street from the Water Council. Take the sidewalk toward the river and walk behind the MMSD fence  behind the pilot location.
Treating river water to potable standards with no pretreatment is no small feat. It is, in fact, a feat of great significance, as treating water traditionally takes many steps and is often wasteful in and of itself. By taking away those initial steps, we can provide water to the community in a much greener way, both in an environmental and economic sense.
So come witness CORNCOB II in action and be a part of our endeavor to Change Water, Change Lives!
If there are any inquiries, please comment below and our team will be happy to answer any questions you might have!