After a long and strenuous journey from Taiwan and across the country, Alfie has at last arrived home and settled in Waukesha! "Alfie is back and in our shop to conduct frequent tests on many different fluids and wastewaters," Dick Davie explains, "which will then determine treatment feasibility."
The offices have been buzzing with activity to get the shop all set up and Alfie ready to run. The entire team worked together to get the shop space organized in order to set up the new "Alfie Lab" that prospective customers and partners can visit. Having this dedicated space creates the wonderful opportunity for these people to see the technology in action for themselves!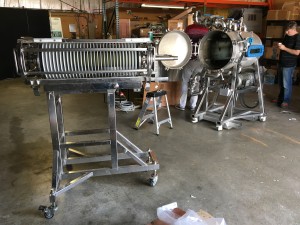 Alfie underwent a few preparations for the coming tests, as well, including a good scrubbing and being fitted with a brand new cartridge. Squeaky clean and with a new cartridge installed, Alfie is all set to go.
Samples are already arriving and are being run through Alfie including one from a food processing application and another from an industrial laundry application (the sample jars from both tests can be seen below). A very exciting sample from a fracking application is scheduled to come in within the next couple months, as well.
Simply seeing the opaqueness of these samples and catching the occasional whiff of these samples will put a grimace on anyone's face and give them a true appreciation for Alfie and the technology's capabilities. The fact that the system is able to take in these feeds directly is incredible; and considering the wastewater that is going into Alfie, everyone certainly appreciates that the unit is completely enclosed.
These offices have never felt so alive with so many people flowing in and out with interesting applications for us to explore. As is always the case here at CORNCOB, Inc., these are fun and exciting times, and we have those who believe in our technology and are giving us a shot to thank for it.