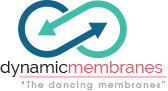 YOU'LL NEVER LOOK AT A CARTRIDGE IN THE SAME WAY, AGAIN.
CORNCOB's Dynamic Membrane (DM) Cartridge unites the entire membrane system into a single, compact assembly. A vast contrast to traditional static membrane systems that require hundreds of meters in canister housing vessels—making the 'DM' cartridge the ultimate space saver.
The cartridge assembly is braced together by a durable frame that's constructed from insert rails. The railed frame enables an operator to move the cartridge in or out of the pressure vessel in minimal time. In fact, replacing a cartridge requires less than an hour from initial system shutdown to being fully operational and running at peak performance.
The 'DM' Cartridge holds all principle membrane sub-assembly components, including the central shaft, multiple membrane stacks, hubs, gaskets, and seals.
Rail bars encircle the entire cartridge assembly and serve dual purposes: 1) Structural stability and support to the cartridge while inside the pressure vessel 2) Positional cartridge engagement inside the pressure vessel.
The 'DM' single cartridge design eliminates the need for infinite static membrane housing units, lowering costs, footprint, assembly time, and significant downtime that results from tracking, locating, and fixing individual or multiple units that are creating functioning issues.
A built-in rail track assembly makes removing or replacing a 'DM' cartridge practically effortless. Using a cartridge cradle, the operator aligns the insert rails - located on the cartridge frame - with the vessel's mounting rails. When the cartridges rail aligns with the track, the cartridge easily slides into place, inside the pressure vessel.
OPERATIONAL EFFICIENCY (OEI)
— Quick, easy cartridge replacement requires only minutes to replace.
— The rail system design ensures accurate cartridge placement reducing human error.
— During routine membrane servicing, the system remains in full operation mode by inserting a spare cartridge.
COSTS SAVINGS OPPORTUNITY
— A simple, slide-in-place cartridge exchange minimizes the need for multiple operators.
— Minimal operator training required
— Cartridges are refurbish-able - reducing membrane purchases and costs
GLOBAL SUSTAINABILITY / WATER STEWARDSHIP
— Reduce footprint - eliminates hundreds of canister housing units
— Cartridge can be recycled and reused